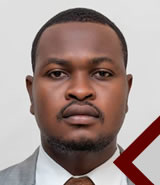 BSc. (Hons) Economics and Business Administration
Francis Torgbor is an Audit Associate II and a graduate from the Catholic University College of Ghana. He is a holder of a first degree in BSc. Economics and Business Administration (Accounting Option), and currently pursuing a professional certificate as a Chartered Accountant with the Institute of Chartered Accountants (Ghana).
He has worked with various organisations including SIC Insurance Company Limited, Aktos Freight Company Limited, and M&C Group. He currently works with Deon and Noed International as an Audit Associate. His key areas are in Accounting, Auditing and Business Development. He has a combined experience of three years in accounting and audit and over five years' experience as a Business Developer and Marketer.